Chernobyl Photographs
The world's most catastrophic nuclear accident took place at the Chernobyl Nuclear Power Plant in Ukraine on the 26th of April 1986. Today the area still remains radioactive and there is a 30 kilometer zone (known as the "Exclusion Zone" or "Zone of Alienation") that surrounds this Soviet nuclear power station where few venture inside. Taken in April of 2010 by Michael Larabel is a collection of high-resolution photographs from the Chernobyl Nuclear Disaster Site, Pripyat, Red Forest, and the surrounding areas within the Chernobyl Exclusion Zone showing what it looks like twenty-four years after this horrific nuclear event.
Touring The Chernobyl Nuclear Accident Site In 2010: I just returned to the United States after being in Ukraine the past five days over Easter weekend. The purpose of this trip was to explore the site of the Chernobyl nuclear accident and surrounding areas -- Kyiv, Pripyat, the Red Forest, etc. Contrary to some initial beliefs, it was not an April Fools' Joke. Due to the great interest in Chernobyl among those interested in science and technology whether it be due to the fascination with nuclear power or finding Chernobyl popularized by video games, documentaries, and the like, I have published my collection of these photographs of Chernobyl showing what the area looks like in 2010 -- just days prior to the 24th anniversary of this catastrophic disaster -- along with some of my thoughts and information collected from this journey. Continue reading and see all photographs.
You can also jump directly to specific photo slideshows of the Chernobyl Reactor #4, Checkpoint Dytyatky, The Town of Chernobyl, The Town of Pripyat, An Abandoned School, Pripyat's Amusement Park, Pripyat's Swimming Pool, and Chernobyl's Red Forest.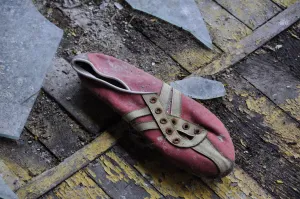 Copyright © 2010 by Phoronix Media. All rights reserved.